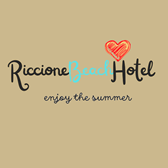 +39 3292158459
VACATION FREE OF ANY SCHEDULE -
TAKE YOUR TIME
+39 0541/641062
- +39 3292158459
LAST MINUTE AND PROMOTIONS
Goodbye to Celibate Riccione
Formula B & B starting from 18 Euro per person per day!
W SPRING E W SUMMER!
Time for sun, sea, fun, outdoor life .... and weddings!

That's right, many friends choose the warm summer months to crown their dream of love. And what are you doing? You do not want to make unforgettable the most important moment of their lives by organizing a stag / hen party that they can not forget anymore?

Choose Riccione for the typical bachelor / hen parties.
Choose the Riccione Beach Hotel , a welcoming B & B located a few steps from the Marano beach and all its clubs and a short distance from the most discos in the Riviera , such as Cocoricò and Villa delle Rose, Samsara Beach, Altro Mondo , Baia Imperiale , and live a week of music, parties and fun and do not finish!

Because? It is soon said!

- It is a young hotel and frequented by young people
- is very close to the most famous entertainment
- offers very advantageous pre-sales for any event
- gives you the opportunity to book a stag / hen dinner where you prefer
- has large rooms to stay in a group and have more fun
- In the morning you can sleep late and wake up just in time to enjoy the exquisite brunch served until late

Have we still not convinced you?
Well ... then let's add one more:

Double or Triple Room starting from € 21.00 per person per day
Quadruple Room starting from € 20.00 per person per day
Quintuple Room starting from € 18.00 per person per day
Prices valid for stays of at least 2 nights
Valid in May and June until 22/6/2018

What are you waiting for? Contact us now to organize your Bachelor / Bachelor party in Riccione!
May and June are the best months to do it!

To learn more or receive a free personalized quote, fill out the form below:


loading form
loading form
By car
A/14 Motorway Bologna - Bari - Taranto:
Riccione (5 km) - Rimini Sud (11 km)

By train
Riccione Station (3 km) - Rimini Station (7 km). Take bus no. 11 to Riccione and get off at bus stop no. 38

By plane
Domestic and international flights from the airports of:
Bologna (98 km), Forlì (45 km) and Rimini (3 km)

Taxi Service Riccione
Tel. (+39) 0541.600509

Riccione Beach Hotel Hannover
- Viale Guerrazzi, 18 47838 - Riccione (Rn)
Tel.
+39 0541/641062
Cell. +39 3292158459 Abit. e Fax
+39 0541/1571037
Privacy Policy
P.Iva 02524000409
Hosting TITANKA! Spa - Copyright © 2013