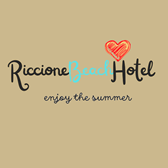 +39 3292158459
VACATION FREE OF ANY SCHEDULE -
TAKE YOUR TIME
+39 0541/641062
- +39 3292158459
LAST MINUTE AND PROMOTIONS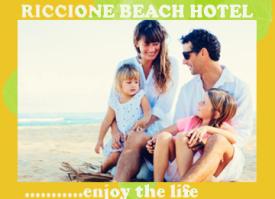 LAST MINUTE FAMILY OFFER - FIRST WEEK JULY
B&B formula starting from 26 Euro per person per day!
W the SUMMER!
Time of sun, sea, fun, life in the open air .... holidays decided at the last minute.

Run away from the heat with your family and from the tremendous heat of your city, prepare your suitcase on the fly, put a nice colorful costume on a pair of flip-flops and take the essential with you.

Choose Riccione for the typical quiet days on the beach to bask in the sun while the children build beautiful sand castles on the Adriatic coast.
Choose Riccione Beach Hotel!

Because? It is soon said!

- is a young hotel and frequented by nice and easy small families
- it's very close to entertainment, the best amusement parks are here .....
- offers very advantageous presales for any event
- gives you the possibility to book dinner for 16 euros wherever you want
- has large rooms for family and more fun
- in the morning you can enjoy the delicious brunch served until late (at 2.30 pm)

Have we not convinced you yet?
Well ... then let's add one more data:
(offer valid from 1 July to 07 July 2020 for a minimum stay of 7 nights)

Double or Triple Room starting from € 32.00 per person per day
Quadruple Room from € 28.00 per person per day
Quintuple Room from € 26.00 per person per day

What are you waiting for? Contact us now to organize your mini vacation

To learn more or receive a free personalized quote, fill out the form below:


loading form
loading form
By car
A/14 Motorway Bologna - Bari - Taranto:
Riccione (5 km) - Rimini Sud (11 km)

By train
Riccione Station (3 km) - Rimini Station (7 km). Take bus no. 11 to Riccione and get off at bus stop no. 38

By plane
Domestic and international flights from the airports of:
Bologna (98 km), Forlì (45 km) and Rimini (3 km)

Taxi Service Riccione
Tel. (+39) 0541.600509

Riccione Beach Hotel Hannover
- Viale Guerrazzi, 18 47838 - Riccione (Rn)
Tel.
+39 0541/641062
Cell. +39 3292158459 Abit. e Fax
+39 0541/1571037
Privacy Policy
P.Iva 02524000409
Hosting TITANKA! Spa - Copyright © 2013